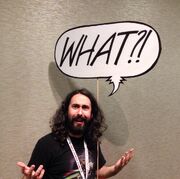 Exclamation made by
Miles
at the end of each episode's cold open to express disbelief at the tangled web of continuity that Rachel has just articulated.
In early episodes, Jay occasionally made the exclamation while Miles explained, but in later episodes, the WHAT?! has been solely the domain of Miles.
In guest episodes, Jay and Miles typically deliver the WHAT?! in unison.