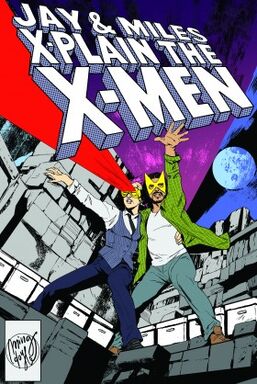 Welcome to the Jay & Miles X-Plain the X-Men Wikia
Where we walk you through the ins, outs, and retcons of our favourite weekly podcast about the ins, outs, and rectons of our favourite superhero soap opera.
Jay and Miles X-Plain the X-Men is hosted by Jay Edidin & Miles Stokes and available on iTunes, Stitcher, and probably any podcast app you like via RSS.
The wiki is edited by you! We're still adding content, but we hope to include articles for every episode, frequently mentioned characters, and all the guests who appear. Help us out by adding things!
Key episodes
[
]
Episode List
[
]
Click here for a full list of all the episodes of the podcast.
Jay and Miles Review the X-Men
[
]
Thanks to the support of their Patreon supporters, Jay and Miles also do reviews of all the X-Books that come out each week.
Around the Web
[
]